ounded in 2004 by Dana Scoby, Maestro School of Music offers private and group violin and piano lessons to children and adults in the Silicon Valley and the Santa Cruz mountains. After moving to the area in 2002, Ms. Scoby realized that many children did not have access to public school music programs or quality private teaching in the area. Today, Maestro School of Music has robust programs for public schools, private schools, city recreation departments, as well as personalized, private instruction.
THE PRICELESS GIFT OF MUSIC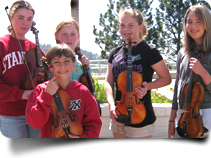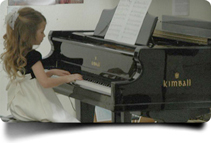 Studies show that children who are exposed to music at an early age are better listeners, tend to do well in math and show better social skills as they grow older. After all, music is its own language utilizing a combination of tones and composition to create an infinite number of beautiful song combinations. Hundreds of years of classical music has truly provided the foundation for today's modern music, including jazz, blues, rock and roll and other styles. Maestro School of Music embraces all music styles and generally begins early instruction with traditional classical teaching methods including music appreciation and theory. An annual Spring Recital gives students the opportunity to work hard and prepare and perform their favorite music. Supplemental workshops such as Jazz piano and fiddle taught by experienced instructors are offered throughout the year. Ms Scoby also prepares violin students for auditions for youth orchestras in the area, such as Palo Alto Chamber Orchestra (PACO), the El Camino Youth Symphony (ECYS) and the Santa Cruz CountyYouth Symphony (SCCYS).
HOME OR SCHOOL SETTING
Ms. Scoby currently teaches Strings programs in a number of K-8 schools in the San Francisco's South Bay area. At Cherry Chase Elementary (Sunnyvale, CA), she has taught a very robust violin program for six years and a smaller violin program at Loma Prieta Elemetary and C.T. English Middle Schools in Los Gatos for four years. She also started the viollin program at Carden El Encanto school,a private K-7 school in Santa Cruz. Currently, Ms. Scoby teaches more than 30 violin and piano students in her home studio or at Heaney Violins' studio in Mountain View.
Please contact us to find out how Maestro School of Music can bring music into your world.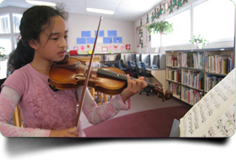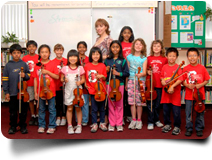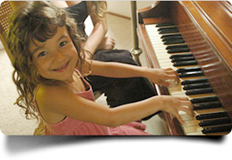 About Ms. Scoby, Founder and Director, Maestro School of Music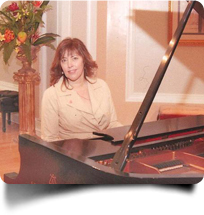 Dana Cheatham Scoby comes from a very musical background and started playing violin at the age of seven under Dorothy Compinsky in collaboration with her husband, Manuel Compinsky. Mr. Compinsky was regarded as one of the better violinists of the twentieth century and was known for his teaching methods. His students included conductor Michael Tilson Thomas and Glenn Dicterow, the concertmaster of the New York Philharmonic, and his own teachers included the renowned Eugène Ysaÿe. He enjoyed a notable career as a film music composer and violinist and played with the NBC Symphony Orchestra.
Greatly influenced by her musical family and generations of teachers, it was a natural 'calling' for Ms. Scoby to teach music after spending more than 25 years working in high-tech marketing and public relations (see Maestro Communications). Her paternal grandfather Robert T. Cheatham Sr. sang in a barbershop quartet at the Hollywood Athletic Club in the 1920s and 30s. Her maternal grandfather Jack Anderson was an avid banjo player and fiddler, who enjoyed getting together with his buddies to 'jam' at his ranch in Wyoming. Her mother Jane Cheatham was a singer and a music teacher in the Los Angeles City School System and directed music in private schools. Her father Dr. Robert T. Cheatham Jr. woke up his fellow boy scouts with his amazing revelry bugle calls. Her brother Scot Cheatham is an accomplished pianist and her two other brothers Tracy and David are talented musicians as well. Needless to say, the Cheatham family was its own orchestra during the 60s and 70s!
In addition to teaching group violin lessons at two public schools, Ms. Scoby teaches both violin and piano to about 30 private students. She is a member of the American String Teachers Association and the Community Music School in Santa Cruz. Ms. Scoby has coached aspiring violin students for competitions and auditions as well as orchestra groups such as the Santa Cruz County Youth Symphony. Ms. Scoby currently plays in several orchestras in the Bay Area including the Peninsula Symphony and the Mission Chamber Orchestra, She is a founding member of the Sterling and Strings Ensemble, a trio/quartet group that plays gigs and weddings. Ms. Scoby was also Concertmaster for three years for the Coastside Community Orchestra.