Testimonials
"It is only by introducing the young to great literature, drama and music, and to the excitement of great science that we open to them the possibilities that lie within the human spirit -- enable them to see visions and dream dreams." - Eric Anderson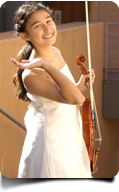 Maestro School of Music is proud to see the accomplishments of its motivated youngmusicians. As each year passes, we are witnessing more and more great talent surfacing. We are excited that some of our students are reaching high levels of musicianship. Here are some insights as to what our parents, students and supporters are saying!
"Dana Scoby has taught Erica for many years, both at Cherry Chase Elementary and privately. Her teaching and classes have really helped Erica to love music and to play violin with more emotion, delivering content to audiences with expressiveness and fine intonation. Playing the violin can be very demanding and it takes great concentration and consistency, Dana has helped Erica to achieve very high levels in just a short time. Erica has won solo competitions including the VOCE regional and is Concert Master for the Debut Ensemble with the Palo Alto Chamber Orchestra (PACO). We appreciated Dana's help in getting Erica through many of the early years and she is still with us when we need that extra help for the most demanding advanced repertoire. Thank you for all your great inspiration Dana."
- Erica Buonanno's Support Team
"Dana's excitment and love of music is contagious. Her patience with children learning a new art is endless. Three children and three years later we are so happy to have her."
- Beth Kaplan
"Having been Dana's stand partner at various orchestras over the years I can honestly say it was always a pleasure. I especially know that the generous kindness she showed the other members of the section will be appreciated by those students whom she teaches. Also, she has seen enough orchestra players hurt themselves to be very mindful of the damage that can be caused by poor technique; students of Dana's will be sure to be given guidance that will help keep them from harm as adults." - Lauren Speeth
"The recital really was great this year!  The boys went to a friend's house afterward and they actually re-created their recital.  When we picked them up, that mom told me she wants the name of our piano teacher, because she's obviously good. Thank you again for your efforts -- all year long, and for the recital too." -  Beth Van Eman

Student Testimonial - Written for English Class in 2009 by Wolfie Smedt(4th grade)

I walked into my piano teacher's house and music filled my ears and joy filled my heart. The song I was hearing was beautiful. My piano teacher, Dana, was playing a song called Delores. I felt happy and wanted to play the song. Dana asked me if I wanted to learn Delores. She explained that is was a hard song that would require a lot of practice. She also told me that playing Delores correctly would require a pianist with a lot of emotion in their playing. She told me she knew I could do it.

The next thing I knew I had the sheet music and was paying the first few measures. I set a goal for myself to master the song in time for my recital in the spring. I practiced almost every day and went to lessons every week. First, I learned the notes. Then I started to play the song with more feeling. By April for my recital, I did learn Delores, and I performed it really well in front of an audience. I felt proud of myself that I met my goal. I learned that by hard work I can do something great.